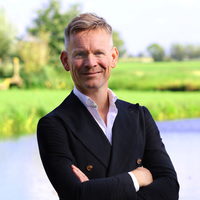 Arno Folkerts
Speaker and trainer in change management
Category
Business & Management, Theatre & Entertainment
Type
Entertainer, Keynote speaker, Personal coach | Trainer
Employability
Keynote speaker, Coach / Trainer, Entertainer / Comedian
Biography
In his keynote 'The Change', Arno Folkerts (1971) highlights the most important elements when it comes to change. In it he speaks in a simple, surprising and above all humorous way about the brain and the changing world that applies to almost all branches. Arnowas general manager at the Auto Borchwerf Groep, which he led from a weakly performing company to a leading car group in a rapidly changing time. In 2019, he was elected "Audi dealer of the year". That same year he changed course and continued his career as a speaker, trainer and consultant. With his broad expertise, he now assists companies in initiating change. He is a practitioner who makes change simple and concrete with knowledge, feeling and humor at both a strategic and operational level. Thanks to the unique collaboration with Paul Smit, in which neuroscience, humor and experience play an important role, it is possible to book both Arno and Paul for your event via Assemblee Speakers. The event then gets a head and a tail where themes are highlighted even better. It is not without reason that Folkerts and Smit's slogan is "Keynotes by Quality!"
Speaker
Arno talks about cooperation, (im) possibilities of the human brain, the power of repetition, commitment, authenticity, daring to make mistakes, leadership, exemplary behavior based on oxytocin and mirror neurons.
The world is changing at lightning speed, partly due to digitization, robotization and artificial intelligence. During this time, companies must constantly switch to adapt. Both when it comes to the direction and the organization of the organization. Flexibility is expected from employees and the willingness to continuously change along with it. This while our brain is programmed to act as much as possible from routine in order to save energy.
In addition, we think and act from fixed patterns and structures. It ensures that we do not see certain things that we should see or vice versa. We can break through this by looking and communicating differently.
An example: if the text on a bag of chips is 65% fat-free, we think we are working healthy, but when it says 35% fat, we leave the bag immediately. In addition, we must realize that we all tell from our own perspective, but that what we say is understood in many ways. So the better we are able to
can be communicated in an organization, the more surprising the result. Another challenge with changes is that our brain searches for the error as standard. We do not easily look at what is going well. You notice that your nose is blocked, but not that you breathe 99% effortlessly. This is how we are programmed. Every evening we watch the News to see what is hardly happening in the world. That is why it is important to emphasize what is already going well. Because if you pay attention to what goes well, this will actually flourish. And again and again. The power of repetition ensures that everything enters the unconscious part of our brain. And that part is precisely the part that contains rhythm and routine.
Another aspect of change is that our brain wants to determine itself. Ownership never arises through coercion. People want to feel that what they do is their own idea or initiative. Connection and trust are also of fundamental importance. Despite all digitization, personal encounter remains the most important, because our brain then produces oxytocin and confidence grows.