Robert Cialdini PhD
Wereldwijde Autoriteit en bestselling auteur op het gebied van beïnvloeden en overtuigen.
Categorie
Communicatie, Leiderschap, Business & Management, Marketing & Sales, Management
Type
Expert | Thought leader, Bedrijfscoach | Trainer
Inzetbaarheid
Keynote spreker, Expert
Biografie
Harvard Business Review lists Dr. Cialdini's research in "Breakthrough Ideas for Today's Business Agenda."
He is a New York Times, Wall Street Journal, and USA Today Best-Selling author.
Fortune Magazine lists Influence in their "75 Smartest Business Books."
CEO Read lists Influence in their "100 Best Business Books of All Time."
Dr. Robert Cialdini has spent his entire career researching the science of influence earning him an international reputation as an expert in the fields of persuasion, compliance, and negotiation.
His books including, influence: Science & Practice, are the result of decades of peer-reviewed research on why people comply with requests. Influence has sold over 3 million copies in over 30 languages and is a New York Times Bestseller.
His new book, PRe-Suasion: A Revolutionary Way to Influence and Persuade, quickly became a Wall Street Journal and a New York Times Bestseller.
Because of the world-wide recognition of Dr. Cialdini's cutting edge scientific research and his ethical business and policy applications, he is frequently regarded as the "Godfather of influence."
Dr. Cialdini received his Ph.D from the University of North Carolina and post doctoral training from Columbia University. He has held Visiting Scholar Appointments at Ohio State University, the University of California, the Annenberg School of Communications, and the Graduate School of Business of Stanford University. Currently, Dr Cialdini is Regents' Professor Emeritus of Psychology and Marketing at Arizona State University.
Dr. Cialdini is CEO and President of INFLUENCE AT WORK; focusing on ethical influence training, corporate keynote programs, and the CMCT (Cialdini Method Certified Trainer) program.
Dr. Cialdini's clients include such organizations as Google, Microsoft, Cisco Systems, Bayer, Coca Cola, KPMG, AstraZeneca, Ericsson, Kodak, Merrill Lynch, Nationwide Insurance, Kimberly-Clark Corporation, Pfizer, AAA, Northern Trust, IBM, Prudential, The Mayo Clinic, GlaxoSmithKline, Harvard University – Kennedy School, The Weather Channel, the United States Department of Justice, and NATO.
Spreker
Keynotes
Influence: The Ultimate Power Tool
What does scientific research tell us about the persuasive approaches that make people most likely to say yes to requests? How can we use this research ethically and effectively?
Dr. Robert Cialdini, author of the ground-breaking book, Influence, is your guide, translating the scientific research into practical business applications. His widely acclaimed studies are highly instructive to those who want to be more influential.
Weaving compelling stories with evidence-based statistics makes this program memorable and immediately applicable.
Here, Dr. Cialdini identifies and explains the six universal principles of persuasion that move others toward yes. Participants receive answers to such questions as:
What can we do to shorten the time required to develop and deepen relationships with our prospects, customers, and co-workers? How can we effectively establish our authority and trustworthiness with those we meet for the first time? After we have given, what words can we use to increase dramatically the likelihood that we will receive in return? When others are sitting "on the fence", which principles of persuasion are most likely to spur them to act? And, which is the most underused, yet effective, principle of persuasion? In this program, Dr. Cialdini answers all these questions and more.
Used correctly and ethically, these scientifically-tested principles produce lasting relationships and strong, long-term change. When the science is available, why use anything else?
Influence During Times Of Uncertainty
In today's uncertain environment, the need for simultaneously effective and ethical influence is necessary, pertinent, and now more vital than ever to our success. During this profound presentation, Dr. Robert Cialdini briefly reviews six research-based universal principles of influence, but focuses on those principles that are most effective during conditions of uncertainty and that leaders can employ to bring about positive and lasting change among individuals located both inside and outside their organizations.
Dr. Robert Cialdini, author of the ground-breaking book, Influence, and co-author of the New York Times best-seller, Yes! 50 Scientifically Proven Ways To Be Persuasive, is your guide in translating highly relevant but poorly-understood scientific research into practical business applications. His books have sold more than 2 million copies worldwide. Dr. Cialdini is the world's leading authority on influence and his widely acclaimed studies are highly instructive to those who want to be more influential.
The Power Of Unity
With The Power of Unity, Robert Cialdini artfully braids science together with meaningful and moving personal accounts to produce a set of compelling lessons for business success.
This unique presentation explores what scientific research demonstrates about the ability of certain relationships to facilitate our goals. Dr. Cialdini skillfully interprets the implications of these relationships both inside and outside the organization.
Audience members learn the answers to such questions as: What can change rivals to make them want to work together? What can make seemingly unrelated, angry people bond together to accomplish meaningful goals? What can make a negotiation more satisfying and come to fruition faster? What simple statement can lead to Unity? What simple request can do the same? And, how can this be accomplished ethically and effectively in business settings? Dr. Cialdini explores and answers these questions and more in this unique program.
What constitutes Unity? The Power of Unity shows how to develop, engage, and focus relationships for optimal working success.
Literatuur
Influence, Science and Practice
Influence: Science and Practiceis an examination of the psychology of compliance (i.e. uncovering which factors cause a person to say yes to another's request).
meer info & recensies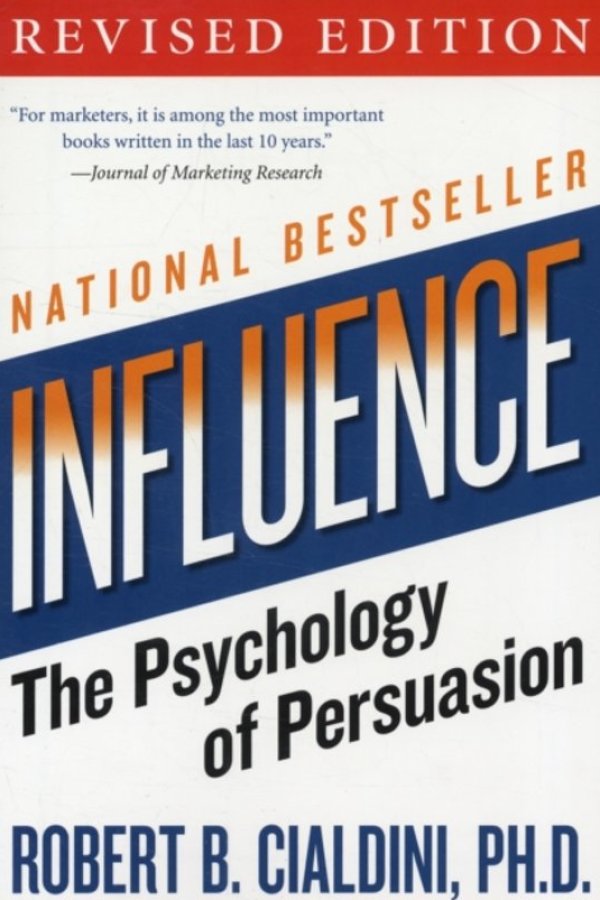 Influence, The Psychology of Persuasion
Influence: Science and Practiceis an examination of the psychology of compliance (i.e. uncovering which factors cause a person to say "yes" to another's request). Written in a narrative style combined with scholarly research, Cialdini combines evidence from experimental work with the techniques and strategies he gathered while working as a salesperson, fundraiser, advertiser, and in other positions inside organizations that commonly use compliance tactics to get us to say "yes."
meer info & recensies
Pre-Suasion, A Revolutionary Way to Influence and Persuade
From the internationally bestselling author of }Influence{, comes a revelatory exploration of the science of persuasion, or, of winning people over
meer info & recensies