Pieter van de Glind
Wil je Pieter van de Glind boeken? Assemblee Speakers is het officiële boekingskantoor van Pieter van de Glind. Hier kun je een optreden boeken van Pieter van de Glind. Vraag een offerte aan bij onze boekers. Het verplicht je tot niets.
Categorie
Trends, Innovatie, Business & Management, Economie & Financien
Type
Expert | Thought leader, Visionair | Innovator
Inzetbaarheid
Keynote spreker, Expert, Masterclass
Biografie
Pieter is an experienced global advisor who has developed a deep understanding of how online platforms are reshaping the way people and organizations interact and how this affects industries, governments and societies. Being the co-founder of shareNL (2012) and the Sharing Cities Alliance (2017), he works with the world's largest online platforms, leading companies, and some of the most advanced city-, state- and intergovernmental organizations. His academic background in the social, environmental and economic sciences are helping him to think and strategize fluidly allowing him to be a global reference point for the sharing economy and digital platforms.
Since 2013 van de Glind wrote several widely cited publications. Starting with his thesis on the potential of the sharing economy that formed an important foundation to the development of the global sharing economy. More recently he authored a publication about the future of work in the age of cities which was presented at the OECD forum amongst business and world leaders such as Randstad CEO Jacques van den Broek and French President Emmanuel Macron.
Since 2014, van de Glind by co-founding shareNL became an official advisor to the leadership of both the private and the public sector including the national government of the Netherlands, the European Commission, the OECD, the WEF, the mayor of Seoul, as well as several global companies.
In 2015 van de Glind and shareNL co-founder Harmen van Sprang launched Amsterdam Sharing City. A new model for urban development based on the principles of the sharing economy and the possibilities of digital platforms allowing citizens and organizations to make a better use of existing capacity while boosting economic resilience, social cohesion and sustainability.
In 2016, van de Glind and shareNL co-founder Harmen van Sprang authored a book titled Share about the opportunities and challenges of the sharing economy. The book earned a nomination for [Dutch] marketing literature of the year.
In 2017, van de Glind and shareNL co-founder Harmen van Sprang headed to New York City to establish the Sharing Cities Alliance, an independent foundation that connects cities from all continents and fosters city-to-city collaboration, directly advising city leaders and empowering city governments like Toronto, Barcelona, and Singapore, to continuously address the opportunities and challenges of the sharing and platform economy.
In 2018, van de Glind celebrated his 150th unique keynote presentation (35% NL; 45% EU; 10% world) at the Volvo Ocean Race Seminars in Gothenburg.
Spreker
Speaking Topics
Sharing / platform economy
Sharing cities (including Amsterdam Sharing City)
Sharing / collaborative economy and your industry (mobility / tourism / logistics / insurance / real estate etc.)
Platform economy
Autonomous economy (artificial intelligence / blockchain / robotics / IoT / AR etc.)
Startups / (social) entrepreneurship
Digital innovation
Balance between (hu)man & machine
Reviews
"The Sharing Economy: the rise of 'new' marketplaces"
Pieter van de Glind, Co-Founder at shareNL will guide you through a world full of new market places far beyond Uber and Airbnb. He will demonstrate how surprising
start-ups all across the economy are able to compete with large multinationals and how these marketplaces, often associated with the 'sharing economy,' facilitate a
change in consumer behaviour. He will welcome you to a dynamic playing field full of innovation where eager entrepreneurs, front running businesses and confused
governments are co-creating a world where consumption is redefined. International Classified Marketplace Association, Annual Conference 2015
"On the future of the sharing economy"
Pieter van de Glind, co-founder of the Dutch knowledge and network organisation for the collaborative (sharing) economy "shareNL", shared his views on the future of the
sharing economy in urban areas. Van de Glind offered examples of sharing economy ecosystems all around the globe. Moreover, he showcased how ideas from the
sharing economy are increasingly shaping the physical and social architecture of urban areas and gradually being adopted by policy makers.
I-share, by the German Federal Ministry of Education and Research
Literatuur
Share
Delen is beter, goedkoper en effici nter dan eigen bezit. Daarop is de deeleconomie gebaseerd. Want waarom zou je een auto kopen als die van de buren 90 procent van de tijd stilstaat? Zo ontstond het autodelen: autofabrikantenzagen de omzet teruglopen en besloten mobiliteit als service aan te bieden in plaats van als product, met Greenwheels en Car2Go als resultaat. Bottom-upbewegingen als deze bieden ongekende mogelijkheden die niet te stoppen zijn. Dat het meer is dan een hype bewijzen succesvolle initiatieven als Airbnb, Snappcar en Thuisafgehaald.
meer info & recensies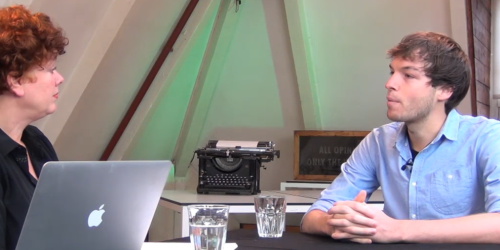 Pieter van de Glind - Fast Moving Targets
(2014) "Dankzij de technologie is toegang net zo makkelijk als bezit"
In het kader van de Sharing Week (8 tm 15 oktober 2014) sprak Fast Moving Targets met meer dan 20 vertegenwoordigers van de Nederlandse deeleconomie, waaronder Pieter van de Glind (ShareNL).