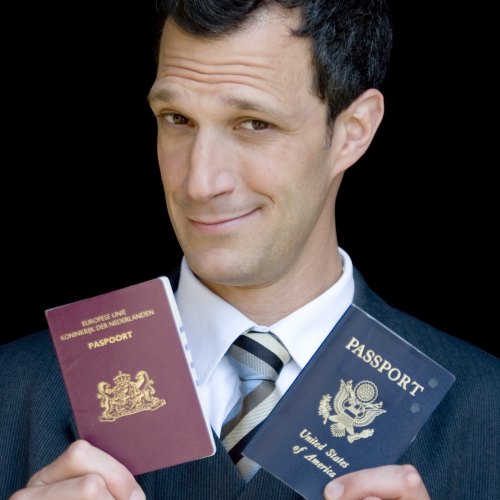 Gregory Shapiro
The American Dutchman presents a masterclass in Culture Shock Therapy
Categorie
Politiek, Theater & Entertainment, Cultuur, Muziek & Maatschappij
Type
Entertainer | Acteur | Imitator
Inzetbaarheid
Keynote spreker, Dagvoorzitter/ Presentator, Entertainer / Cabaretier, Workshops
Tijdlijn
2017
the voice-over of the "The Netherlands Second" video from Zondag met Lubach
2011
Created and presented the television program Planet Nederland
2010
Joined Maurice de Hond at Boom Chicago for the comedy show Political Party
2007
hosted Comedy Central News on Comedy Central
Biografie
Gregory Shapiro: Comedian. American. Dutchman. And the voice of Trump in the 'Netherlands Second' video with over 50 million views. Celebrating 25 years in comedy. Shapiro is producer and host of the YouTube show 'United States of Europe,' giving EU leaders the respect they deserve – by ridiculing them on a regular basis. On his YouTube channel, he offers his video 'How to Do a Trump Imitation, Even When You Have Large Hands.'
As author of How to Be Dutch: the Quiz, Shapiro is known for his 'Dutch Culture Shock Therapy.' As comedian with comedy theater Boom Chicago, Shapiro covers the latest news from the US – and he continues to perform there with the current events show 'Angry White Men: Trump Up the Volume.'
Shapiro came to the Netherlands in 1994 to help establish comedy theater Boom Chicago, after graduating from Northwestern University. In 2007 Shapiro presented 'Comedy Central News' and then went solo. He's since worked with BNR fm, Time Out Amsterdam and BNN/VARA HumorTV. Shapiro also has 20 years experience in Corporate Speaking / Entertainment.
Shapiro is currently the producer, writer and host of 'United States of Europe' for Zoomin.tv. He is the host of the QuickestQuiz app. And he is the co-host of the Amsterdam Comedy Podcast. He tours with his 4th solo show 'Part-Time Hypocrite.' And his books How to Be Orange: an Alternative Assimilation Courseand How to Be Dutch: the Quiz are available internationally.
Inzetbaarheid
Dagvoorzitter/ Presentator
Spreker
… 'Culture Shock Therapy,' doing business in a foreign market
… Comic Insights into Office Culture
… Tailor-made comedy teambuilding events
Literatuur
How to be Dutch
Welcome to How to Be Dutch, the Quiz: the questions that SHOULD be on the Dutch citizenship exam, according to an American Netherlander who's been in the country for 20 years. If you're looking for an official guide to the Netherlands, this is not it.
If you're looking for some odd Dutch quirks – in snarky quiz form – then this book is for you. The official Dutch assimilation course can be described as 'a room full of non-Dutch people learning things about Dutch people that are unknown to most Dutch people.' On the official exam, many Dutch people score worse than the non-Dutch people do. So welcome to this self-made quiz. It can't be any weirder than the real one.
meer info & recensies
How to be orange
Gregory Shapiro – the American Netherlander – brings you a must-have alternative to the Dutch assimilation course. What is the true Dutch identity? Shapiro shares his hilariously clumsy assimilation into Dutch culture and blasts some well-known stereotypes along the way. The book includes questions from the real Dutch Assimilation Exam, whose logic Shapiro delightfully dissects to reveal the Dutch identity they'd rather you didn't know. How to Be Orange includes a photo essay of the most awkward Dutch product names and is illustrated by award-winning cartoonist Floor de Goede.

How to Be Orange makes you redefine the Holland you thought you knew. Shapiro examines the dialogue from Pulp Fiction to find out how many 'little differences' have changed. He asks 'If Holland is the Drug Capital of the world, why is it so hard to get antibiotics?' And Shapiro tells how the Dutch tradition of Zwarte Piet made his children into little racists.

If you're looking for an official guide to Dutch culture, this is not it. If you're looking for one man's completely subjective and utterly biased impression of Dutch culture, this book is for you.
meer info & recensies