Christian Gansch
Highly regarded international conductor, producer and consultant.
Categorie
Cultuur, Muziek & Maatschappij
Type
Expert | Thought leader, Keynote speaker
Inzetbaarheid
Keynote spreker, Expert, Dagvoorzitter/ Presentator, Workshops, Debat
Thematiek
Teamwork, Change, The cross-functional consciousness and cooperation, Leadership, Dealing with pressure, The orchestral motto: listen to each other
Tijdlijn
2006
Mozart's Figaro in UK
2006
5 Beethoven piano concertos with the Russian national orchestra
2006
Opening of the Beethoven Festival in Germany
Biografie
Grammy winner Christian Gansch, highly regarded internationally as a conductor, producer and consultant, was born in Austria in 1960. His book "From Solo to Symphony - What businesses can learn from orchestras" was published in 2006, and he is a keynote speaker of the highest calibre.

From 1981 to 1990 Christian was leader of the Munich Philharmonic Orchestra. He then moved into the music industry and produced over 190 CDs worldwide with artists such as Pierre Boulez, Claudio Abbado and Anna Netrebko. Winner of four Grammys, amongst many other international awards, Christian lectures in German and English.
He was the recipient of the Record Academy Award Tokyo, for conductor in the category "Best Concerto Disc" for Beethoven's five piano concertos, and as a producer for Mahler's 8th Symphony with the Berlin Staatskapelle under the baton of Pierre Boulez.

During his time as a conductor Christian worked with the English BBC Orchestra, the City of Birmingham Symphony Orchestra, the German Symphony Orchestra Berlin, the Russian National Orchestra, the Orchestre Philharmonique de Radio France in Paris and the NHK Symphony Orchestra Tokyo. He conducted Beethoven's 9 symphonies with the Orchestra Teatro La Fenice in Venice in 2004 and gave his Proms debut at London's Royal Albert Hall. As an opera conductor, he celebrated success in England with Mozart's "Marriage of Figaro."

With two distinct perspectives of the musical world, as a musician and as a manager, he has been able to create a unique coaching concept, which demonstrates the similarities between orchestras and company structures.
Gansch compares these similarities and demonstrates what companies can learn from the complex structures in orchestras, which outwardly look like a perfect unit to the audience. Orchestras with their high potential for human conflicts, leadership issues and complex integrated communications are a perfect example of how to bring a huge variety of specialists and instruments together to form one integrated harmonious unit.

Since 2003 Gansch has worked as a consultant for a number of major companies with direct reference to communication and "orchestral consciousness". He has also published two books on this subject, "Vom Solo zur Sinfonie" and "Wer auftritt, muss spielen"
Inzetbaarheid
Dagvoorzitter/ Presentator
Spreker
Reviews:
Dear Christian, I want to thank you a lot for your speech. I never seen a standing ovation in Airbus. You've done it! You really were the most inspiring from this day. I think some other colleagues would be interested to recommend you.
Thanks again.
- AIRBUS

Dear Christian, Our Management Conference was indeed very successful and my colleagues were very enthusiastic about your performance! In fact, the day afterwards many of your metaphors were used during feedback sessions and presentations .
I would like to wish you all the best!
- Global Change Lead BASF Vegetable Seeds

Dear Christian, Thank you for the very motivational speech performance last Thursday, it really complemented the day's program, and resonated very well with the audience, ......and personally I was a bit emotionally drained from the day....until your speech!!!. Many thanks, and I hope you got home OK.
- Roche Pharma
Sehr geehrter Herr Gansch, Sie haben gestern ja bereits Feedback von unseren Gästen bekommen. Aber ich muss es einfach noch einmal sagen - es war wundervoll! Jeder der Anwesenden war restlos begeistert. Selbst später als Sie schon lange weg waren, hat sich das Gespräch immer wieder um Ihren Vortrag gedreht. Vielen herzlichen Dank für diesen fabelhaften Ausflug in eine andere Welt!
- Duravit AG

Mail an die Agentur: ich möchte mich für die Möglichkeit, an der äußerst interessanten Veranstaltung gestern im Schauspielhaus teilnehmen zu können, recht herzlich bedanken. Die Matinee mit Hr. Gansch übertraf unsere Erwartungen bei weitem! Unterhaltsam, viel gelernt, erstaunliche Parallelen.
Kann jedem nur wärmstens empfohlen werden! Vielen herzlichen Dank auch im Namen meiner Begleitung,
- AVL List GmbH

Sehr geehrter Herr Gansch, ich wollte die Gelegenheit nochmals nutzen, um mich für den tollen Vortrag zu bedanken. Alle Teilnehmer waren begeistert und inspiriert und es wurde noch lange danach und immer wieder darüber gesprochen. Herzliche Grüße und Ihnen eine schöne Adventszeit!
- Daiichi Sankyo Europe GmbH
Literatuur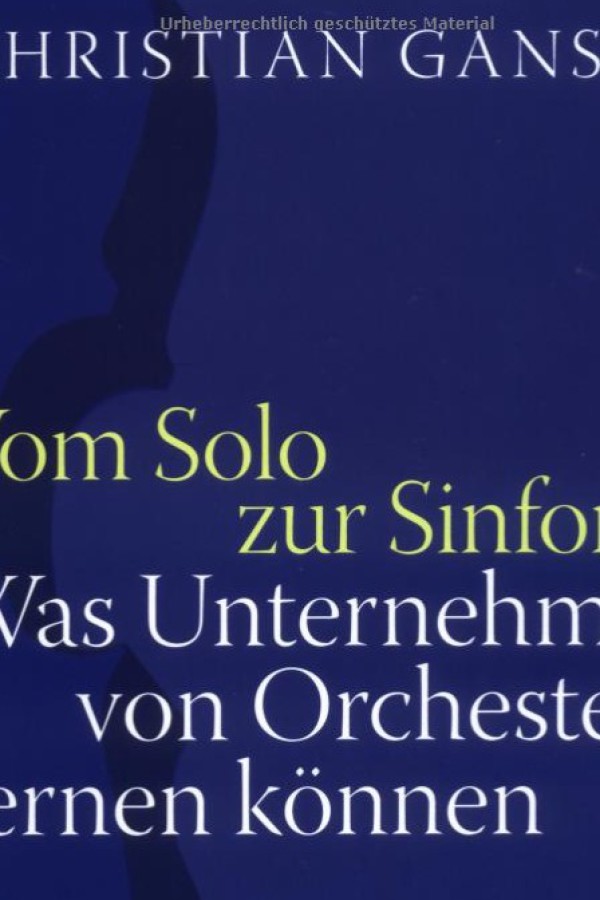 Vom solo zur sinfonie
Ein neuer Ton fürs Management: Der Dirigent und Musikproduzent Christian Gansch zeigt anhand vieler Beispiele und Anekdoten die Gemeinsamkeiten zwischen Unternehmens- und Orchesterstrukturen und was sich daraus für den Managementalltag ableiten lässt. Ein funktionierender Orchesterapparat ist ein Paradebeispiel für effiziente Management-, Führungs- und Konfliktlösungsstrategien. Denn nirgendwo sonst arbeiten Spitzenkräfte täglich stundenlang auf so engem Raum zusammen. Wer gibt den Ton an? Wie viele Solisten verträgt ein Team? Welche Freiheiten und Verantwortungsbereiche gibt es für den Einzelnen? Wie werden welche Entscheidungen herbeigeführt, wie wird kommuniziert? Welche Stimme hat wann Priorität? Wie erarbeiten sich Führung und Team neue Ideen und Visionen? Diese Fragen werden auf ähnliche Weise in allen Unternehmen gestellt, und die Antworten, die der Dirigent und Musikproduzent Christian Gansch auf anschauliche Weise präsentiert, sind hilfreiche Anregungen zur Gestaltung des Unternehmensalltags. Ein origineller Blick hinter die Kulissen der Orchesterwelt, der grundlegende Fragen der Unternehmensführung und -kommunikation beantwortet.
meer info & recensies
Der Dreiklang der Führungskompetenz
Wie in der Kunst gehört auch in der Wirtschaftswelt eine ausgeprägte Wahrnehmungsfähigkeit zum Fundament sinnvollen Handelns – und ist damit Grundlage des unternehmerischen Erfolgs. Selbstmotivation, genaues Hinhören und Hinschauen, die eigenen Fähigkeiten erkennen, den gesunden Menschenverstand einsetzen, Leidenschaft an kontrollierte Ziele binden, Entscheidungen zwischen Gefühl und Verstand balancieren: Anhand von aufschlussreichen Analogien und originellen Beispielen aus der Musikwelt rückt der Dirigent und Kommunikationsexperte Christian Gansch gestressten Managern den Dreiklang des Erfolgs ins Bewusstsein.
meer info & recensies
Topics
Teamwork
understood as an interplay of various competences
Change
why yesterday is memory and change our destiny
The cross-functional consciousness and cooperation
The orchestral motto: listen to each other
act together – learn from each other