Tom Palmaerts
Assemblee Speakers is the official booking agent of Tom Palmaerts. Contact Tom Palmaerts as keynote speaker at your event directly through Assemblee Speakers!
Category
Business & Management, Retail & Trade
Type
Visionair | Innovator
Employability
Keynote speaker, Breakout session, Master class
Theme
Generatie Z op de werkvloer, De toekomst van food, 2030, Jongeren trends, De toekomst van retail
Timeline
2019
Ready or not. Boek uitgebracht bij Lannoo
2017
La Madrugada. Wijnmaker in Argentinië
2016
Futuro Getaway. Drie jaarlijkse inspiratie sessie in Toscan
2015
Trillingen. Boek uitgebracht bij Lannoo
2014
Award Trendspecialist van het jaar
2008
Trendwolves, Trendwatcher en managing partner
2008
Award Trendspecialist van het jaar
2006
2006-2008 Onderzoeker jongerencultuur en subculturen bij Ladda vzw.
2004
2004-2006 Jeugdwerker bij De Verbeelding & Spirit vzw.
Biography
Tom Palmaerts is trendwatcher and managing partner at Trendwolves, a full service trend and implementation agency with a focus on young consumers and modern families.
He is a worldwide keynote speaker and trend consultant. Working for brands like Callebaut, Conway, Clariant, Telenet and Devan.
In 2008 Tom Palmaerts was awarded "Youth trend specialist of the year" by the Dutch trendwatching platform Second Sight, as a result of his drive, originality & passion. In September 2013 Tom Palmaerts received the award Trendwatcher of The Year 13-14. The jury explained: "He is activating and can bring things in motion." In 2015 he published a book 'Futures' (Lannoo, Dutch) together with Herman Konings and Joeri Van den Bergh.
Today Tom Palmaerts is fascinated by the combination of long term thinking and contemporary cultural shifts. Trendwolves guides companies that create the future. Topics are: 2030, young female muslims, megacities, phygital retail, food, mobility, modern tribes, generation Z, ...
Speaker
Reviews:
"Tom is effervescent, high-spirited and above all FRESH. His work is greatly inspirational." Judith van Vliet (Designer Clariant Milan)

"Tom Palmaerts opens your eyes, with a lively mix of pictures and humor. Short, sweet, and to the point. Eric Van Bael (Vice President Commercial & Public Sector EMEA at Hewlett Packard) "Tom's talk here in Hong Kong was really stimulating - full of inspiring insights and examples from around the world. We've had lots of great feedback from everyone who came." Ollie Cartwright, The Fountain Group

"An accelerated trip in our today's future." — Eric Geuens, REGIONAL MANAGER MAPFRE RE (MADRID)

"Trendwolves allows us to identify and anticipate the new trends of tomorrow, to drive our innovation to the next level and inspire our customers." Pascale Meulemeester, VICE PRESIDENT GLOBAL BRANDS & MARKETING GOURMET BUSINESS UNIT BARRY CALLEBAUT, BARRY CALLEBAUT

"It was a great pleasure working with Tom. As one of the keynote speakers of the HR conference for the (Flemish) government, he inspired 700 HR professionals. From start, he opens their eyes about how we can survive in a 24/7 connect world? How future proof is your HR policy? He activated the audience by the statement "NO FUTURE". Let's open your state of mind! With a mix of pictures and humor, Tom brings a fresh perspective on future proof HR. Hire for attitude, train for skills. A sharp and motivational talk and start of our congress." Joke Dielesen, MANAGER, CKC SEMINARS
Literature
Futures
Drie toptrendwatchers gidsen ons door onzekere tijden Herman Konings, Joeri Van den Bergh en Tom Palmaerts bundelen hun inzichten in één verzamelbundel. Vol trends waar we toekomsten kunnen op bouwen. Herman Konings verkent de nabije toekomst van handel (retail), wandel (mobiliteit) en warmte (gastheerschappij) met nauwelijks opgemerkte 'wendingen' als altruvatie, de bypass-economie, dividualisering, fygitale ruimten en de vlakke leeftijd. Joeri Van den Bergh toont aan hoe de nood aan échte Face Time bij de Generation Y and Z groter is dan ooit. Sociale media maken ons niet minder eenzaam. Gen Y is op zoek naar echte soulmates of 'bondgenoten', zowel in het leven als in merken en producten. Tom Palmaerts gaat op zoek naar onvermoede trillingen, ideeën die nog niet helemaal duidelijk zijn, maar die de potentie hebben om bestaande systemen te veranderen. Concepten die bij sommigen verblindende weerstand oproepen, maar die voor anderen juist de sparkle zijn om nieuwe uitdagingen aan te gaan.
more info & reviews
Ready or not
Ben jij klaar voor de toekomst? Twijfel je over het antwoord? Dat is oké. Het leven gaat soms zo snel, dat de toekomst ons doet duizelen. Maar, hoe worden we dan wel futureproof? De bekende trendwatcher Tom Palmaerts reist al jarenlang de wereld rond met één doel: mensen zin doen krijgen in de toekomst. In Ready or not reikt hij tools aan en zet hij je op weg met 11 krachtige en inspirerende tips. Get on with it!

Neem dit boekje overal mee naartoe of leg het in de kleinste kamer. Je vindt er een levenspartner in, een steun en toeverlaat, of de nodige schop onder je kont.
more info & reviews
Topics
Generatie Z op de werkvloer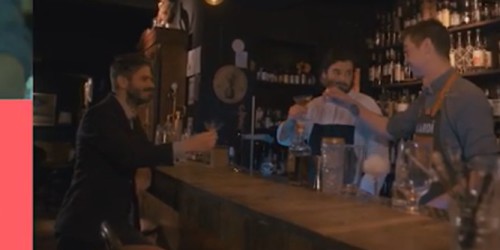 Craftific - When craftmanship meets technology
Craftmanship has gone mainstream, and cutting-edge creatives are going further, crossing the borders of technology and science. These so-called post-artisans try to find an equilibrium between craftmanship, technology, and science. More on: https://trendwolves.com/blog/food-tre... A great example is the co-op between bartender Ran Van Ongevalle (2017 winner of Bacardí Legacy Global Cocktail Competition) and scientist Maxime Willems from belgian food lab Proef, captured @The Pharmacy, Knokke (Belgium). Willems and Van Ongevalle mimick the barrel ageing process of liquor with the help of soundwaves, and explain how they do so in this video. Trendwolves created this video for the UBA Trends Day 2017 in Brussels. The size of the video reflects the unique size of the event screen.
Tom Palmaerts - Innovate or become extinct
Tom Palmaerts - Innovate of become extinct Want to know more about Tom? Check out his profile: http://assemblee.nl/8097/speaker/Tom-.
Trend report - Browsing the Margin
Our new Youth Trend Report 'Browsing The Margin' bundles 6 future youth trends and their influence on markets and business. It's jam-packed with inspiration, consumer insights, tomorrow's influencers, future marketing strategies and transformative solutions. The Youth Trend Report unveils the drivers of change, and offers a captivating glimpse into your company's future.