Mark van Rijmenam
The Digital Speaker | Strategic Futurist. Bringing the future to life with his expertise on AI, blockchain, and the metaverse, inspiring audiences to embrace innovation and seize new opportunities in the digital age.
Category
Transition & Transformation, Artificial intelligence [AI], Technology, Virtual Keynotes & Events | Webinars | Online [Live] Coaching, Future
Type
Expert | Thought leader, Visionair | Innovator
Employability
Keynote speaker, Expert, Master class
Timeline
2018
Publication second book: Blockchain: Transforming Your Business and Our World (English & Chinese)
2017
Faculty member Blockchain Research Institute - Toronto
2017
Start second company: dscvr.it
2016
Received two scolarships for a PhD and moved to Australia
2014
Publication first book - Think Bigger
2012
Start first company - Datafloq
2011
charity bike ride in Australia for KIKA - 14122km in 100 days
Biography
Transform your event with Dr Mark van Rijmenam, CSP, an extraordinary futurist and captivating speaker who brings the future to life with his expertise on AI, blockchain, and the metaverse, inspiring audiences to embrace innovation and seize new opportunities in the digital age.

Dr Mark van Rijmenam, CSP, known as The Digital Speaker, is a visionary strategic futurist who enlightens organisations on the transformative power, opportunities, and risks of AI, the metaverse, and other cutting-edge technologies. As a renowned international keynote speaker, a Global Speaking Fellow and a 5-time author, he captivates audiences worldwide. He also founded the Futurwise Institute, dedicated to elevating global digital awareness to ensure a thriving digital future.

A Trailblazing Strategic Futurist and Keynote Speaker
Dr Mark van Rijmenam, CSP, renowned as The Digital Speaker, is a trailblazing strategic futurist and highly sought-after international keynote speaker. His unique ability to simplify intricate concepts and captivate audiences has inspired and enlightened over 100,000 managers, directors, and C-level executives across more than 25 countries on all continents. In 2023, he was awarded the Certified Speaking Professional and Global Speaking Fellow accreditations.

Mark van Rijmenam is an Expert Advisor on AI, Blockchain, and the Metaverse
With a deep understanding of (generative) AI, blockchain, the metaverse, and other emerging technologies, Dr Van Rijmenam is the trusted advisor to leading companies and governments seeking to innovate and thrive in the digital age.

Academic and Professional Background of Dr. Mark van Rijmenam
Dr Mark van Rijmenam holds a Bachelor's degree in Hospitality Management, a Master of Science in Marketing Management, and a PhD in Management from the University of Technology Sydney. His research focuses on how organisations should navigate big data analytics, blockchain, and AI. He is a respected voice in the technology community and a member of the Professional Speaker Australia association and the Global Speakers Federation.

Dynamic Presentations and Corporate Education
As a distinguished 5-time author and corporate educator, Dr Van Rijmenam is celebrated for his candid, independent, and balanced insights. His engaging and thought-provoking presentations, webinars, workshops, and podcasts empower audiences to embrace the future and stay ahead of the curve in today's rapidly changing digital world.

Electrifying Keynote Speeches on the Future of Work
In his keynote speeches, Dr Van Rijmenam explores the future of work, the role of the metaverse, generative AI, such as ChatGPT, and the importance of data-driven customer-centricity. He emphasises the need for ethical applications of technology and helps organisations build trust while leveraging data for growth and innovation.s and governments while considering the human side of technology to ensure the ethical application of such digital tech.

Speaker
DR. MARK VAN RIJMENAM IS AS SPEAKER AVAILABLE FOR:
An in-person keynote or boardroom session
A live virtual keynote or boardroom session
A live "in-person hologram" where Mark appears on stage as a hologram

Dr Mark van Rijmenam, a revered strategic futurist and innovation speaker, is entrusted by top companies and governments to guide them through the evolving landscape of emerging technologies, including AI and the metaverse.
His exceptional insights inspire teams to adopt and responsibly harness innovative technologies, maximizing efficiency and future-proofing their operations.
Having captivated over 100,000 managers, directors, and C-level executives in >25 countries across all continents, Dr Van Rijmenam's influence spans the globe. please add this: He received the Certified Speaking Professional and Global Speaking Fellow accreditation.
His latest venture, the Futurwise Institute, is dedicated to fostering a just and inclusive digital future for all.

BOOKS OF DR. MARK VAN RIJMENAM
Mark van Rijmenam wrote these books:
Mark van Rijmenam just wrote a book in one week (with the help of ChatGPT) — an exciting example of human & machine collaboration.

Future Visions
In "Future Visions," we take a unique approach to exploring the potential of technology that shapes our future. Written in a collaboration between AI and strategic futurist Dr. Mark van Rijmenam, also known as The Digital Speaker, this book offers a fascinating glimpse into the possibilities of technology and its potential to transform our world.

Step into the Metaverse
Step into the Metaverse: How the Immersive Internet Will Rewrite How the World Operates explores how the merging of physical and virtual worlds will irrevocably change the day-to-day experiences of individuals, organizations and even societies. By mapping out both the trillion-dollar opportunities and potential liabilities of the metaverse, this book aims to prepare business leaders, consumers, and government officials for the future of the Internet: live selling via streaming fashion shows, virtual movie screenings and concerts, digital twins of physical cities, digital products sold directly to avatars, and more.

Platform Revolution – Blockchain Technology
The book declares a simple and important truth: Blockchain has achieved platform status and will be foundational for creating a decentralised society where data privacy and security are standard. Edited with a preface by Don Tapscott, brought together by the Blockchain Research Institute and in collaboration with six other contributors, Christian Keil, Anjan Vinod, Dominique Guinard, David Mirynech, Alan Majer, and Michele Mosca, the book is a must-read for anyone who is interested in the platform revolution.

The Organisation of Tomorrow
The Organisation of Tomorrow presents a new model of doing business and explains how big data analytics, blockchain and artificial intelligence force us to rethink existing business models and develop organisations that will be ready for human-machine interactions. It also asks us to consider the impacts of these emerging information technologies on people and society."

Blockchain
The internet was envisaged as a decentralised global network, but in the past 25 years, it has come to be controlled by a few, very powerful, centralised companies. Blockchain is a technological paradigm shift that allows secure, reliable, and direct information transfer between individuals, organisations, and things, so that we can manage, verify, and control the use of our own data.

Think Bigger
Big data - the enormous amount of data that is created as virtually every movement, transaction, and choice we make becomes digitized--is revolutionizing business. Offering real-world insight and explanations, this book provides a roadmap for organizations looking to develop a profitable big data strategy...and reveals why it's not something they can leave to the I.T. department."


TESTIMONIALS
What other people say about speaker Dr. Mark van Rijmenam:

"The session went great, he talked about open AI and people were very engaged and sharing their experiences in the chat, so was a lot of fun."
Coca-Cola | Europacific Partners

"This was an awe-inspiring session with Mark van Rijmenam and Nestlé leaders. We are very grateful for him sparking curiosity and sharing a glimpse of what the metaverse entails, and the fact that some elements are not tomorrow but today. Mark captures the audience's attention with his simple messages and engaging content. Time for questions felt short, testament of the interest of the audience; we could have stayed another 30 minutes… A must to re-watch and spread the word on how we prepare for the metaverse."
Gonzalo Vega | Center of Learning and Inspiration - Rive Reine - Nestlé

"We are looking back on an extremely successful GlobalPETS Forum last week. We received on your presentation from the attendees a lot of positive comments. Therefore, thanks again for your support and delivering the professional presentation."
Corine van Winden | PETS International, Board Member

"Mark has a valuable independent view of the total spectrum of the Big data scene and has a versatile and extensive network. He has detailed knowledge and proved highly efficient during our short period of working together."
Diederik Meijerink |Data Scientist, Schiphol Group

"Using concrete examples Mark is able to explain big data and its potential and its impact for organizations and societies."
Nico van Buren | Managing Director, Kennisalliantie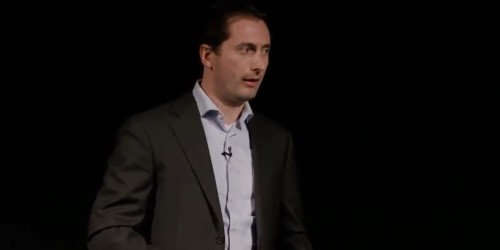 The Future of Work: How to Create a Competitive Organisation
The organisation of tomorrow will look fundamentally different than today's organisation. Those enterprises that are aware of the upcoming changes can best prepare and achieve competitive advantage in a data-driven society. Consequently, the future of work will require management and employees to take a different approach when it comes to creating and delivering a product or service. The future of work will be defined by three concepts: data, decentralisation and automation that will radically change leadership, culture, privacy and security.
How to Prepare your Organisation for a Data-Driven Future
Dr Mark van Rijmenam explains how you can prepare your organisation for a data-driven future. We live in exponential times and simply having a digital strategy focused on continuous innovation is no longer enough to thrive in a constantly changing world. In order to transform an organisation and contribute to building a secure and rewarding networked society, collaboration among employees, customers, business units and even things is increasingly becoming key. Especially with the availability of new technologies such as big data, blockchain and artificial intelligence, organisations now need, more than ever before, to focus on bringing together the different stakeholders in order to co-create the future. Big data empowers customers and employees, blockchain enables peer-to-peer collaboration, while artificial intelligence creates new human-machine interactions.
Mark van Rijmenam
Summary of the keynote by Mark van Rijmenam for the Annual Fujitsu Distinguished Engineers conference.
How to Innovate in Today's World: Achieving a Gestalt Shift
Keynote speaker Dr Mark van Rijmenam talks about how to Innovate in today's world: We live in a world of accelerated change and disruptive innovations are challenging the status quo for organisations. The common denominator of all these innovations? They produce data, lots of it, which can be used to create magical experiences that were unthinkable before. In order to remain competitive, organisations need to put obtain a different perspective of their business and develop a culture of innovation.