Mark van Rijmenam
Named a global top 10 Big Data influencer
Category
Economy & Finance, Retail & Trade
Type
Expert | Thought leader, Visionair | Innovator
Employability
Keynote speaker, Expert, Master class
Theme
Bitcoin en Blockchain
Timeline
2018
Publication second book: Blockchain: Transforming Your Business and Our World (English & Chinese)
2017
Faculty member Blockchain Research Institute - Toronto
2017
Start second company: dscvr.it
2016
Received two scolarships for a PhD and moved to Australia
2014
Publication first book - Think Bigger
2012
Start first company - Datafloq
2011
charity bike ride in Australia for KIKA - 14122km in 100 days
Biography
Mark van Rijmenam is Founder of dscvr.it and Datafloq. He has a Bachelor in Hospitality Management, a Master in Marketing Management and he is currently pursuing a PhD in Management.
He is an entrepreneur with a drive for (disruptive) innovation and to make a difference and inspire others. His objective is to be a catalyst for global innovation and to enable organizations and societies to tackle some of the world's biggest challenges. He is named a global top 10 Big Data influencer and one of the most influential Blockchain people.
Van Rijmenam believes in sustainable, social and economic responsibility when doing business or creating companies. Let's use the latest trends such as Big Data, Robotics, Virtual reality, Artificial Intelligence, Nanotechnology or 3D printing to change and improve the world and create a better place for all. He is aware of the latest trends in the world that impact organisations.
Currently, he is a PhD Candidate at the University of Technology, Sydney. He has received two scholarships to do so. His research question is how organizations can use Big Data, Blockchain and Artificial Intelligence to remain competitive.
He is the author of the book Think Bigger – Developing a Successful Big Data Strategy for Your Business, which was published globally as of April 2014, published in Chinese in 2017. He is also co-author of the book Blockchain (forthcoming). He is a frequent blogger on Datafloq.com as well as on other platforms around the web.
He is a highly sought-after international keynote speaker on big data, blockchain, AI, IoT and disruptive innovation. He has given lectures at the Business University Nyenrode, University of Technology Sydney and has spoken in Australia, France, China, Hong Kong, United Kingdom, Germany, Belgium, South Africa, Colombia, United States, Dubai and The Netherlands among others.
Speaker
Topics
1. Big Data is Dead, Long Live Big Data
Last year, Gartner took Big Data out of the Hype Cycle for Emerging Technologies but that does not mean that Big Data is dead. On the contrary, Big Data has become more important than ever. New technologies enable organisations to do more with data than ever before and it is completely changing how we work and live. In this keynote, International Big Data Influencer Mark van Rijmenam will share with you three big data trends, including inspiring examples, that will dramatically change your business in the years to come and he will explain why Big Data is more important than ever.
2. The Future of The Internet of Things is Distributed
The Internet of Things is radically changing our society and with the emergence of Blockchain, it has become a whole lot interesting. With the Blockchain, connected devices suddenly can be used in completely new ways, thanks to the usage of smart contracts that can be deployed on a blockchain and that can automate many tasks. Devices can start negotiating with each other, they can start making micro- or even pico-payments for services used and thanks to smart contracts, agreements are enforced automatically. Blockchain is revolutionizing the Internet of Things and in his keynote, Van Rijmenam will share insights how Blockchain will do so. He will provide best practices, examples and give you clear takeaways on how you can improve the Internet of Things using the Blockchain.
3. Building the Future; One Block at a Time
We live in a world of accelerated change and the 4th Industrial Revolution is upon us. Disruptive Innovations such as Artificial Intelligence, Robotics, 3D Printing or VR/AR are being developed at an exponential pace. The common denominator of all these innovations? They produce data, lots of it, which can be used to create magical experiences that were unthinkable before. Now it is time to use this data to create products and services that will change the way you work and live, while ensuring your privacy, keeping personal information secure and allowing you to own your data. Let's build this future together, one block at a time.
4. The Collaboration Era – How to Thrive in an Exponential World
We live in exponential times and simply having a digital strategy focused on continuous innovation is no longer enough to thrive in a constantly changing world. In order to transform an organisation and contribute to building a secure and rewarding networked society, collaboration among employees, customers, business units and even things is increasingly becoming key. Especially with the availability of new technologies such as big data, blockchain and artificial intelligence, organisations now need, more than ever before, to focus on bringing together the different stakeholders in order to co-create the future. Big data empowers customers and employees, blockchain enables peer-to-peer collaboration, while artificial intelligence creates new human-machine interactions. In this keynote, Van Rijmenam will discuss how big data, blockchain and AI will change collaboration and in doing so enable a networked society.
5. An Insurance for Disruption; Preparing for Tomorrow's World
We live in an ever-changing world and the strategic challenge that organisations face is to continuously adapt their strategy to this constantly, rapidly and unpredictably changing environment. Technology can help organisations do so and enable leaders to be the change within their business (unit) to remain competitive. This keynote will discuss three of these technologies that can enable leaders to deal with the changing customer landscape and how they can innovate and lead the pack. These technologies are: Big Data Analytics, Blockchain and Artificial Intelligence. Together, these three technologies change how we do business and they are the holy grail of the organisation of tomorrow. Those leaders that understand these technologies can become a catalyst for creating and driving change within their business unit.
Literature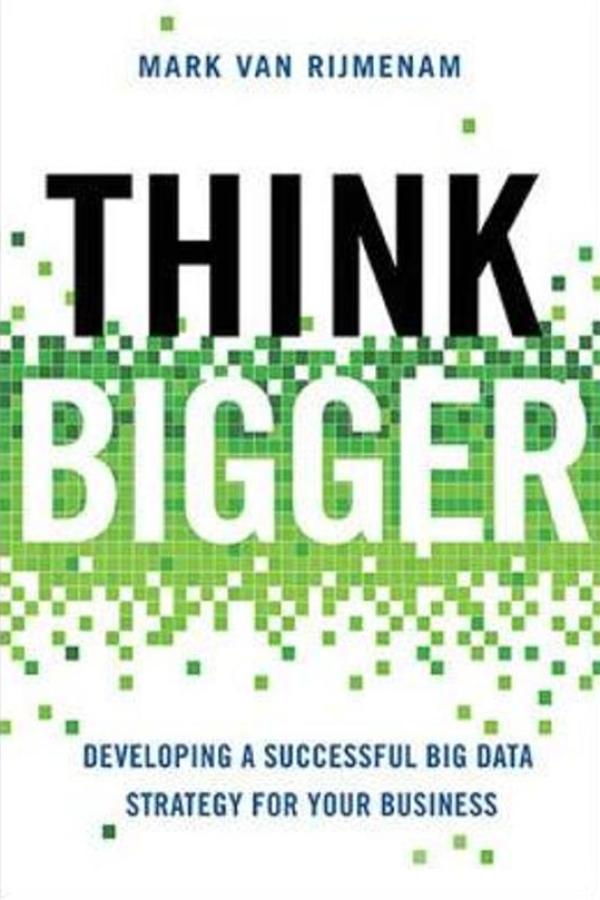 Think Bigger
Offers guidance on developing a profitable big data strategy and staying ahead of the curve as this technology changes how businesses are run, while also looking the latest big data trends and likely future developments.
more info & reviews
Topics
Bitcoin en Blockchain
Both private and unblock players in the financial sector are forced to act swiftly to understand and respond to the risks and opportunities of cryptocurrencies and the technology behind them. Is it a new 'goldrush' or an essential part of the fourth industrial revolution?