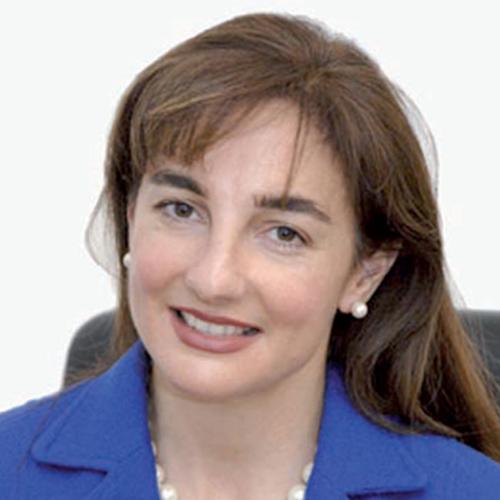 Florence Eid-Oakden
CEO and Chief Economist of Arabia Monitor.
Category
Business & Management, Politics, Economy & Finance
Type
Business leader | Entrepeneur
Employability
Keynote speaker, Debate
Biography
Dr. Florence Eid-Oakden is the CEO and Chief Economist of Arabia Monitor. She has been a professor of economics and finance at the American University of Beirut and a visiting professor at INSEAD and HEC Paris.
Formerly head of MENA research at JP Morgan, Dr. Eid-Oakden has also worked with the World Bank on Latin America & North Africa and on the buy side as a hedge fund investment professional.
She serves on the Board of Directors for the Arab Banking Corporation Interna-tional Bank in London and in Jordan, the Arab Bankers Association of North America in New York, and sits on the Advisory Council of the Al Faisal University College of Business, Saudi Arabia, and Dean's Strategic Advisory Board at the American University in Cairo, Egypt.
She has also served as a Trustee of the American University in Paris, and a Di-rector of Shuaa Capital in Dubai.
Dr. Eid-Oakden received her Ph.D. in Organization Economics from the Massa-chusetts Institute of Technology (MIT) with a joint MIT-Harvard Doctoral Com-mittee.
Speaker
Recent topics
The Middle East Today: What is exceptional and what isn't?
Risks and opportunities of doing business in the Middle East
The low oil price environment: A rite of passage toward more responsive economic management in the GCC?
Iran's return to global markets will present regional economic challenges and opportunities. What about its politics?
China's New Silk Road will transform trade and investment patterns. Who benefits most?
Islamic finance, a perfect fit for infrastructure investment in the region?
Suffering from the highest rate of youth unemployment worldwide, could entrepreneurship become a game-changer for MENA labour markets?
How are markets adjusting to and accommodating lower oil prices? Has there been a cyclical pick-up in other commodity prices?
Assessing the impact of Iran on regional geopolitical trends, what are the implications of the Trump presidency for the Iran nuclear deal?
Are we witnessing a resurgence in Sino-MENA relations? What of relations with India as a major trading partner?
Changing Economic Foundations in the GCC -- What Will the Next Ten Years Bring?
How can central banks suppress volatility? What will the consequences be for increased rates? What are the implications of continued unconventional monetary policies by central banks for Europe? What will the outlook be for debt markets investors with continued Eurozone malaise?
The Arab Spring Six Years On: Progress or Regress?
Economics in a Turbulent World: How Will Developments in Energy Markets, The Rise of China, Economic Reform in KSA and Iranian Regional Ambitions Play Out.
Private Equity in African and the Middle East: Driving Africa's Economic Transformation
Arab Societies and the Winds of Change: New Dynamics and Perspectives or a Step Back?
Economics, Trade and Business: New Challenges, new horizons for MENA
Entrepreneurial Finance: What it Means for MENA
Beyond the headlines: MENA opportunities emerge
Markets 160 million strong: Parsing through the volatility
The New Maghreb: Business Opportunities in North Africa