Elke Geraerts
The Brain expert | Founder of Better Minds at Work | Best selling Author | Assemblee Speakers is the official booking agent of Elke Geraerts.
Category
Human Capital, Business & Management
Type
Expert | Thought leader, Scientist
Employability
Keynote speaker, Moderator/ Presenter, Master class
Biography
Elke is a doctor in psychology and held various academic positions at the universities of Harvard, St. Andrews, Maastricht and Rotterdam. Elke is co-founder and managing partner of the international consultancy company Better Minds at Work and wrote the bestseller Better Minds. Elke is keen to give speeches that last and give you insight about your brain and that of your organization.
Elke gives stimulating keynote speeches about how we as humans can get the best out of life (work and private life). Elke speaks passionately about how you can organize your life a little more consciously and thus increase your resilience and energy. Her approach is founded on both the latest scientific insights and her practical experience within the business world. Elke gave vibrant talks in Cape Town, New York, Dubai, Sydney and Lima and is keen to inspire you and your organization.
Speaker
TOPICS ELKE GERAERTS

No Guts No Glory
Elke makes a powerful case for taking control of your own life with greater courage. She debunks the myth of time management, blows a hole through our eternal search for a work-life balance and explains how empathy can lead to success. Expect to see your employees motivated to take greater ownership and make choices which will make them happier and more successful in the long term.

Better Minds
In this keynote, Elke provides inspiration for ways to build your personal resilience and that of your team. This keynote is not only the perfect antidote to burnout, but also an eye-opener that makes it clear that investing in resilience leads to greater productivity and happiness. In a 48-hour challenge, Elke will push you to apply a number of tips and tricks in practice straight away.

TESTIMONIALS ELKE GERAERTS

Christophe Degrez [CEO Eneco Belgium]
Elke Geraerts was able to inspire our company with a natural mix of academic insights and pragmatic declinations. She was able to find the right fit with our company culture in no time. By doing so she was able to connect with a broad audience. Her down to earth way of bringing the messages of the "CaliHero" and how to have the growth-mindset, really inspired me too. And on top of that she is a gifted speaker.

Geert Aelbrecht [HR director BESIX Group]
Elke and her team of Better Minds at Work are helping BESIX worldwide to create a company where Resilience is not only being preached, but also trained and supported. Elke delivers great insight in how managers and employees can focus on what truly matters, be attentive to detect those that need our help more and how everybody can become more resilient through balance and taking care of each other.
Literature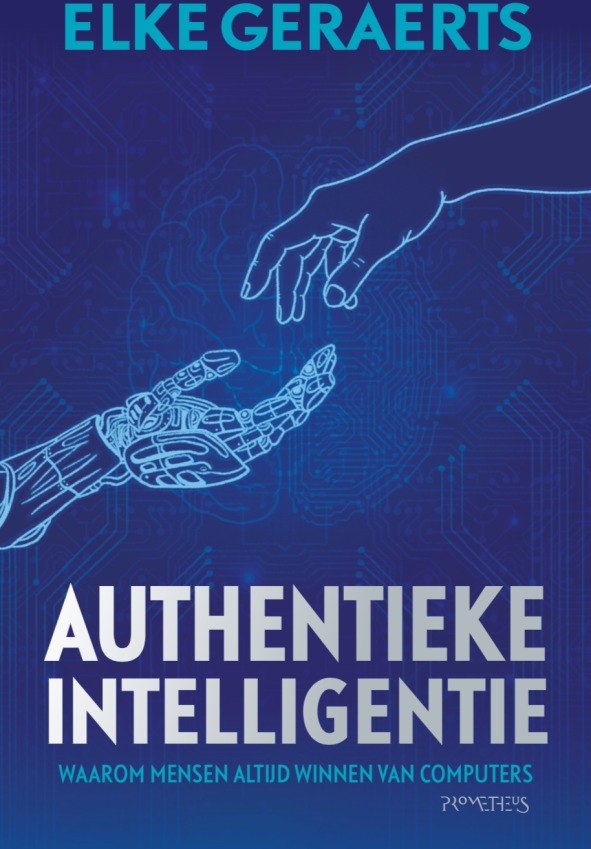 Authentieke Intelligentie
In Authentieke intelligentie durft Elke Geraerts luidop het quasi-existentiële thema aan te kaarten dat ons allen wakker houdt. Terwijl robotontwikkelaars flirten met de grens van het onmogelijke, buigt Geraerts zich gefascineerd over de vraag waarin de uniciteit van de mens dan wél schuilt. Over welke onvervangbare kwaliteiten beschikt het menselijk brein? Welke bijzondere kenmerken leveren ons een competitief voordeel op in vergelijking met onze digitale tegenhangers? Geraerts, die haar sporen reeds verdiende met de boeken Mentaal Kapitaal en Het Nieuwe Mentaal, beargumenteert haarscherp waarom het hoog tijd is om te investeren in verbeeldingskracht en mentale lenigheid, wat het oplevert als leidinggevenden uitgaan van ieders expertise en waarom organisaties niet langer zouden moeten wachten om de calihero in hun medewerkers wakker te maken. Authentieke intelligentie is een visionair boek dat leest als een trein. Elke Geraerts neemt ons mee langs een spannende zoektocht naar het bestaansrecht van onze menselijke soort in dit digitale tijdperk, en imponeert met haar betoog over de impact die wij hebben op het verloop van de geschiedenis en de manieren waarop wij de wereld van morgen kunnen vormgeven. Duidelijker klonk een call to action nog nooit.
more info & reviews
De mentale reset
De Mentale Reset
Hoe hybride werken en leven je veerkracht vergroten
'Elke crisis is tegelijkertijd een kans. We weten al jaren wat we moeten doen om breinbewuster te leven en te werken. En toch zetten we die kennis nauwelijks om in de praktijk. De afgelopen maanden beleefden we een van de grootste veerkrachtexperimenten aller tijden. Wat als we deze crisis zien als een kans tot echte transformatie? Een kans om nieuwe gewoontes aan te nemen, zodat we sterker dan ooit de toekomst tegemoet kunnen treden?'
In haar nieuwe baanbrekende boek geeft Elke Geraerts je de nodige handvatten om je voor te bereiden op de vele uitdagingen die leven en werk post-corona voor ons in petto hebben. Hierin geeft ze je brein een centrale rol en leert hoe je breinbewuste keuzes kunt maken. Ze toont hoe hybride werken tot meer productiviteit én meer rust kan leiden, hoe je je dromen kunt najagen en hoe je ook in een never-ending digitale wereld tot echte focus kunt komen.
Het wordt nooit meer zoals vroeger… en misschien gelukkig maar!
more info & reviews
Mentaal Kapitaal
Neuropsychologe Elke Geraerts over het belang van een veerkrachtig brein
De burn-outepidemie neemt ongekende vormen aan. Maar er is een oplossing: hoe groter je mentale weerbaarheid, hoe beter je beschermd bent tegen stress, burn-out en andere mentale problemen. In dit grensverleggende boek toont brein experte Elke Geraerts wat de belangrijkste componenten zijn van mentale veerkracht, en hoe je deze kunt trainen om je mentale kapitaal te vergroten. Recent wetenschappelijk onderzoek toont namelijk aan dat we zelf een aanzienlijke impact hebben op ons mentale kapitaal. Met de juiste mindset kan de kans op een burn-out dus aanzienlijk worden verkleind, en met de juiste aanpak kan burn-out in je bedrijf sterk worden gereduceerd.
more info & reviews