Christian Kromme
Expert Disruptieve Innovatie. Tech-entrepreneur Exponentiele Technologie.
Category
Business & Management, Science & Education
Type
Expert | Thought leader, Visionair | Innovator
Employability
Keynote speaker
Timeline
2015
Inspiratie sessies en R&D
2014
Eigen bureau verkocht
2002
Eigen bureau opgericht
Biography
Christian Kromme is een ervaren tech-entrepreneur en spreker/inspirator op gebied van exponentiele technologie, disruptieve innovatie en strategie/visie ontwikkeling. Tijdens zijn sessies neemt Christian je aan de hand van sprekende voorbeelden mee in de exponentieel veranderende wereld waarin steeds meer disruptieve technologieën en business modellen zorgen voor een grote machtverschuivingmachtsverschuiving richting de consumenten en slimme communities.
Als adviseur heeft Christian aan de wieg gestaan van meerdere succesvolle 'disrupievedisruptieve' initiatieven, veelal spin-outs in compleet verschillende branches maar altijd gefocusseerd op het snijvlak van mens en technologie. In 2002 heeft Christian een eigen bureau opgericht waarbij hij innovatieve projecten voor opdrachtgevers zoals: Randstad, Essent, Endemol, Corio, Eyeworks Holding, ABP, Oracle, Philips, Toyota, Auping, Adidas en de Rabobank heeft uitgevoerd. Eind 2014 heeft Christian het bureau verkocht aan een grote multinational en is hij zich meer gaan focussen op zijn passie, het geven van inspiratie sessies en workshops omtrent disruptieve innovatie en exponentiele technologieën.
Christian heeft vrij unieke vindingen gedaan. Tijdens de zoektocht naar zijn dochters gezondheid heeft Christian patronen ontdekt in biologische organismen die een blauwprint vormen voor de disruptieve technologische trends die we vandaag de dag om ons heen zien. Deze patronen kunnen gebruikt worden om toekomstige trends te voorspellen. Dit is interessant voor ondernemers, investeerders en managers. De patronen geven zekerheid naar de toekomst en geven een solide basis bij de vorming van lange termijn visie en strategie. Christian is ervan overtuigd dat als zijn vindingen worden geïmplementeerd door organisaties en overheden we een hele mooie toekomst tegemoet gaan. Daarom wil Christian graag zijn verhaal delen met de rest van de wereld.Christian toont in zijn sessies de unieke parallellen tussen biologische trends en technologische trends. De biologie achter technologie. Hij heeft veel praktijkervaring op het gebied van disruptieve innovatie en kan daardoor veel praktijk voorbeelden geven.
Speaker
Expert op het gebied van disruptieve innovatie - hoe biologische organismen een blauwprint vormen voor de disruptieve technologische trends om ons heen.
Literature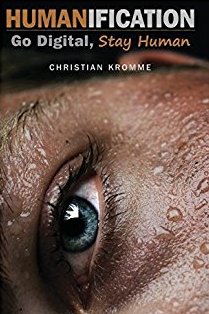 Humanification
By reading this book you will learn to see how the world works at a biological level, a technological level, and a humanity level. You will come to understand how each level is linked, and that knowledge will reveal remarkable new insights into the future. This is a truly remarkable book that no entrepreneur, leader or policy maker can afford to miss. This book shows how technology unites humanity into one big organism. This new insight will change the way you look at technology and its effect on us all us all forever.
more info & reviews